Information Meetings with Erasmus+ Newcomers
The National Erasmus+ Office in Armenia conducted a series of information meetings during the last month aimed at the dissemination of the activities and opportunities of Erasmus+ program. The organizations new to the activities of Erasmus+ program and haven't participated in any action previously were in the target.
The format of the meetings was as follows: presentation of the Erasmus+ action in accordance with the needs and characteristics of the newcomer organization, discussion of the questions, and reaching of agreements.
The details of the information meetings are described below:
Armenian Code Academy (ACA), February 24. ACA is a leading educational institution dedicated to aligning technical education with industry needs, promoting experience-based, comprehensive, and continuing education opportunities. During the meeting, the representatives of the company got acquainted with the Erasmus+ "Capacity building in higher education" and "Virtual exchanges in higher education and youth" activities, their conditions, features, application procedure and received answers to all the questions they were interested in.
Arpi Solar. March 1. "Arpi Solar" is one of the most experienced companies operating in the field of solar energy in Armenia. The executive team of this newcomer company expressed a high interest in Erasmus+ "Capacity building in higher education", "Capacity building in VET" activities, in cooperation with the VET sector and work-based learning. During the meeting, the representatives of the National Erasmus+ Office in Armenia guided them in relation to project proposal development, partner search, participant identification code (PIC) registration and other issues, as well as provided necessary materials and presentation slides after the meeting.
Armenian Medical Institute, March 6. The representatives of NEO Armenia presented the following activities of the Erasmus+ program to the academic and administrative staff of the institute: "International credit mobility (ICM)" and "Capacity building in higher education". The participants of the meeting were particularly interested in the organization of internal processes of mobility in institutes and the techniques of searching for international partners. The NEO Armenia representatives motivated and inspired the audience by highlighting the ICM accomplishments of various Armenian universities and institutes.
Democracy Development Foundation, March 14. At the invitation of the Foundation, the NEO Armenia representatives presented the details of the Erasmus+ "Virtual Exchanges for higher education and Youth" action to the representatives of the following organizations: "Transparency International" anti-corruption center, "For Equal Rights" educational center NGO, "Article 3" club, "Koghb" Foundation, "Public Journalism Club" NGO, "Restart" Foundation, Bun TV, "Teach for Armenia" Foundation, "UNICEF", "Armenian Progressive Youth" NGO. The participants engaged in a dynamic discussion regarding the prospects provided by the action, considered potential ways of collaboration amongst themselves and received answers to their questions from the NEO Armenia representatives.
Similar information meetings held by NEO Armenia are continuous in order to spread and promote the opportunities provided by the Erasmus+ program among the beneficiaries as widely as possible.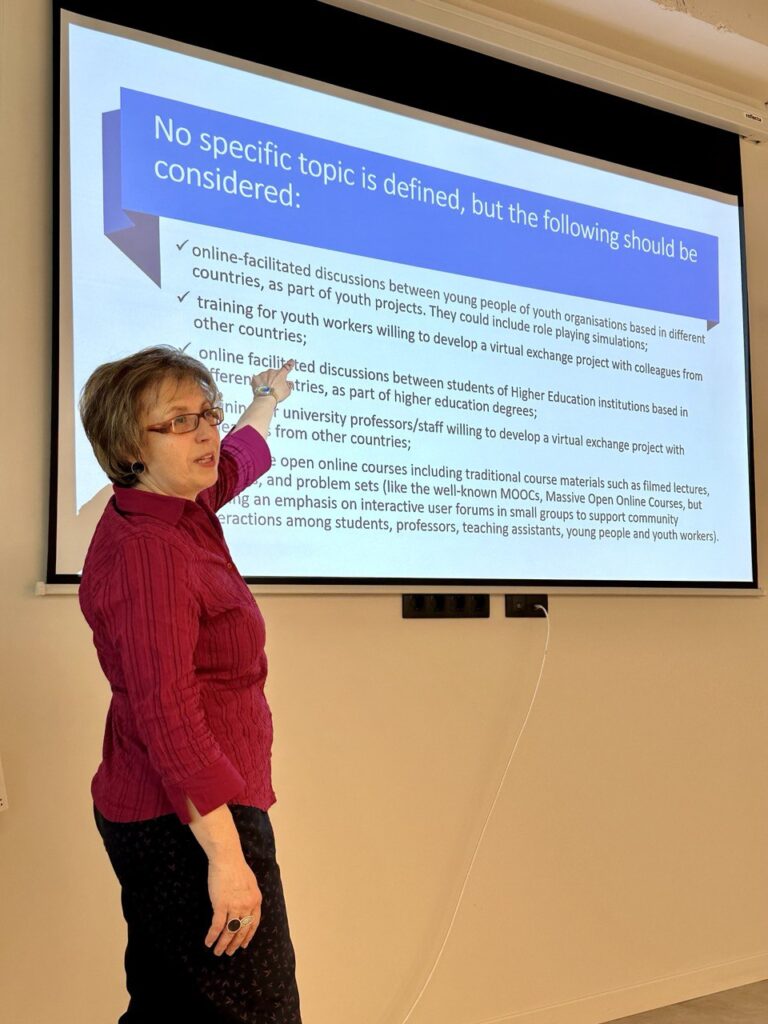 Posted in: News & Events, News & Events 2023